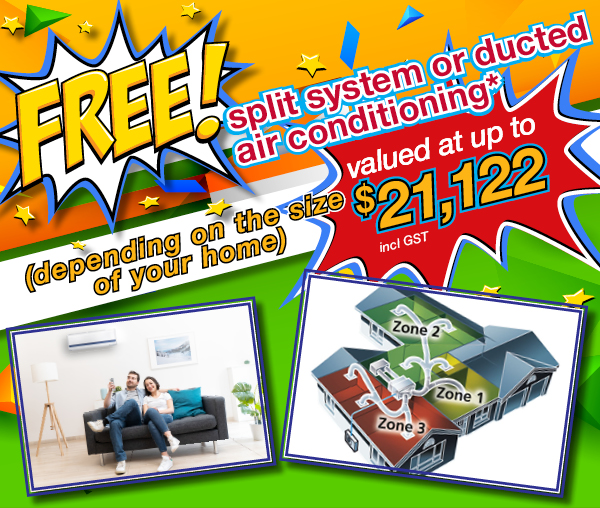 Ever wondered how you would be able to save the extra $$ to get a ducted air conditioning system? You've saved hard and thought about the home and all the things that go with it. Well don't worry about the air conditioning now! This offer is offering comfort all year round. Ever heard of an offer like that before!? Treat yourself!! Pick up the phone and let's partner on your project and start thinking about turning that air con on!
Depending on the size of your home, this offer is valued at up to $21,122 incl GST!!!!. Split system air conditioners work well with a lot of our designs. Larger homes will receive ducted air conditioning. So the larger the home you purchase, the larger the air conditioning system you are entitled to!
To enquire about how you can take advantage of our air conditioning promotion, simply fill out the form on this page and one of our design consultants will be in touch with you to discuss your modular home needs.
Terms and Conditions:
Not available with any other offer.
Asset Cabins and Homes will determine the most efficient air conditioning system (ducted or split system) based on the size of your home and the number of rooms. This determination will be detailed in your Project Design Specification. This offer also includes connection of external units.
Split system air conditioners work well with a lot of our designs. Larger homes will receive ducted air conditioning.
All bedrooms, living areas and offices to be air conditioned.
Offer excludes bathrooms/laundries/walk in robes or linens.
Quality mainstream air conditioner brands will be used, the brands specified are currently Mitsubishi for split systems and Fujitsu for ducted units. However this is also subject to availability and this will be detailed in your Project Design Specification.
Any queries about this offer should be directed to one of our friendly design consultants, as all details specific to your project will be set out in your individual Project Design Specification.
Offer is valid until 31/5/2020